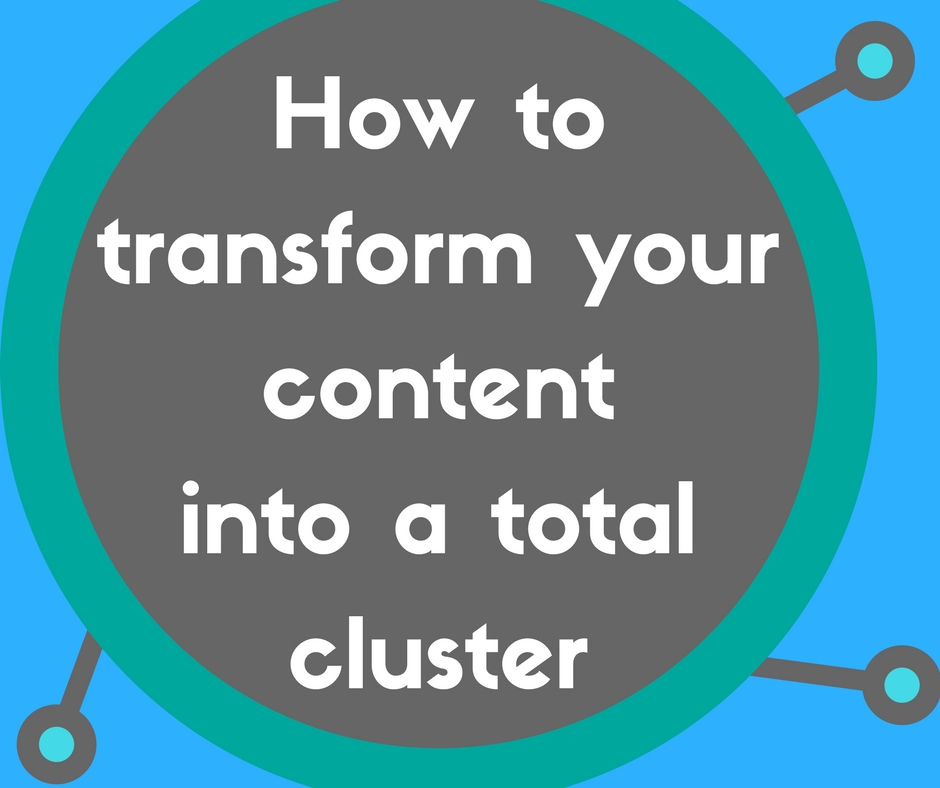 Ranking higher for keywords has been both an enigma and moving target for marketers worldwide (thanks a lot, Google). While we could spend 10,000+ words rehashing where search has been and how many times the algorithms have changed, it's best to focus on the now and the next wave of methods you need to help boost your search engine rankings. Previous common practice was to create content focused on a single long-tail keyword. One that you could actually rank for with a difficulty score of somewhere between 65 and 75. You'd do research, craft the perfect headline, cross all your on-page SEO t's and sit back awaiting those rankings to roll in.
But what if you could own "content strategy" in all its search volume glory instead of "how to develop a content strategy" and a few distant cousins that you have to create individual pieces of content for? Enter pillar pages and content clusters.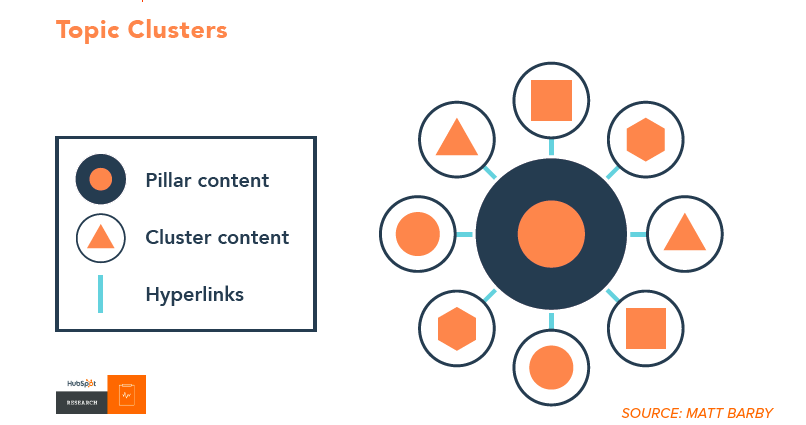 Topic clusters & SERPs: Digital peas n' carrots
HubSpot experts wanted to test a theory to determine if the topic cluster model really did impact SERPs more effectively than traditional keyword-focused SEO. What they found was
the more internal links, the higher the search ranking
.
Topic clusters in action
As a self-proclaimed anti-techie, I had a hard time figuring out the logistics of setting up a pillar page. One seemingly logical spot for it would be the relevant service or capability page. But to me, that would dilute the message and overwhelm site visitors. TBH, this didn't totally click for me until I came across this great example from Alaniz Marketing. The pillar pages are ungated web pages that live under the resources section as "authoritative guides." It may be easier than you think.
Say hello to the topic cluster model
There is much debate online as to the novelty of this idea. While the concept may not be all that new, the topic cluster model is getting some SERP and marketer love of its own at the moment.
HubSpot even launched a content strategy tool
(that's still in beta) to help customers implement the topic cluster model, so you know this is going to be big. In the topic cluster model, a pillar page is created to be the hub of that topic. On this page, you'll find some depth about the topic, as well as dozens of links to content on sub-topics (like your traditional long-tail keywords). Because the pillar page also has significant breadth by way of being linked to from several related sub-topics, the page is deemed more authoritative by search engines and is rewarded with higher rankings.

Let's take a closer look at
The Ultimate Guide to Lead Generation
. Here's a snapshot of the pillar page: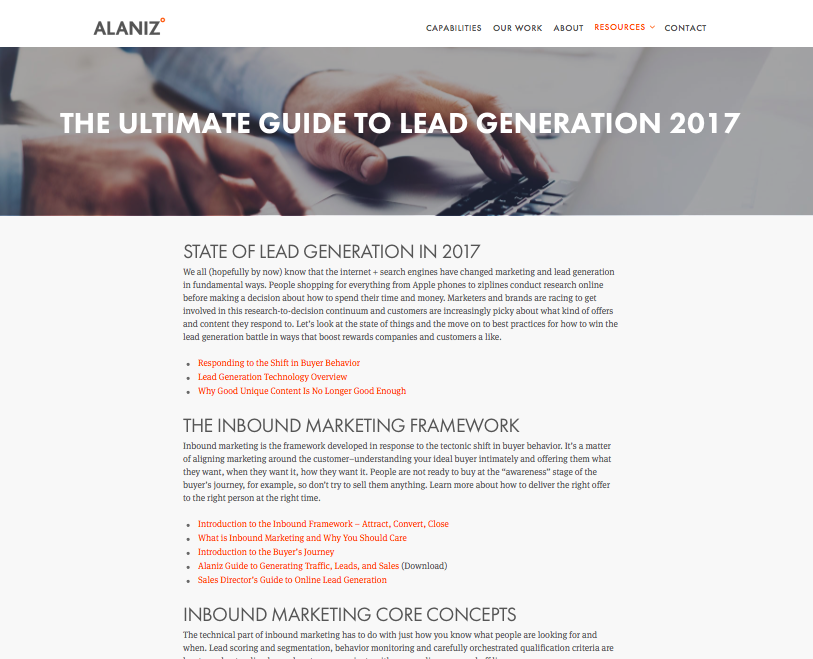 The page provides educational blurbs about everything from the inbound marketing framework to social media and SEO, each with links to relevant blog posts on the topic for those who would like to learn more. Of course, meatier gated content offers are promoted on this page for those who are ready to move along the buyer's journey. And a bottom-of-the-funnel (BOFU) offer is standing by for those who are ready to chat with someone. If you click on one of the blog posts, like "
Responding to the Shift in B2B Buyer Behavior,
" the first thing you'll see is a link back to the pillar page (ultimate guide to lead gen), citing this post is part of the "
Ultimate Guide to Lead Generation
" blog series. It's repeated again at the end of the post.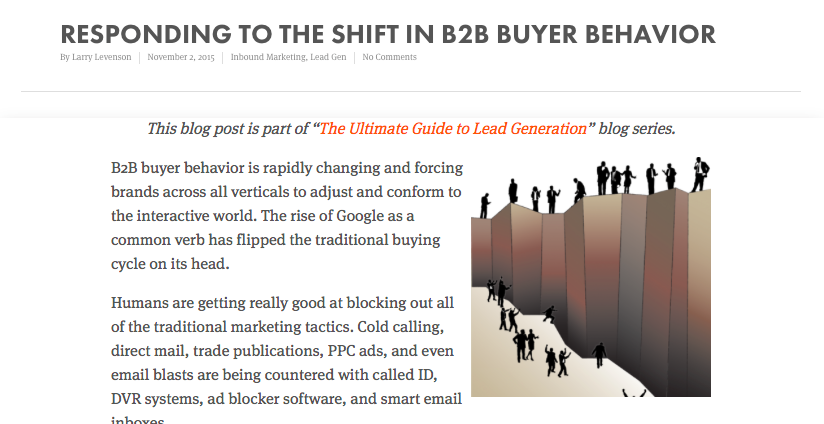 This is a major signal to the Google that these pages are connected and helps build authority and relevance for the pillar page. This is a key step that shouldn't be skipped — it's
how the search engine knows it's part of a topic cluster
. There are also links to posts on related sub-topics within each blog post, thus strengthening the "sphere of influence" on the pillar topic — in this case, lead gen.
Now that you have a picture in your mind of how pillar pages work with the blog posts, let's discuss how to implement them.
Determine which topics you'd like to own
Think broad strokes like "lead generation" or "content marketing." The keywords you'd never even dream of ranking for with traditional SEO. Using your buyer personas as your guide, make a list of the broad topics your personas care about and move on to the next step.
Do an audit of all of your content to identify any gaps
Review all current content pieces and assign them to the appropriate pillar topic from the previous step. Let's say you're creating a content marketing pillar page. You have a ton of great content on blogging, but very little on social media. Conduct some old-school keyword research to determine topics, then create content to fill those voids. If you want tips on how to dive deeper into creating cluster content,
check out this handy checklist from Inbound Educators
. Set up a sexy spreadsheet to help you track all of these moving parts and pieces, including:
Pillar page URL
Topic
Keyword to rank for
Links to pillar page
Links to other sub-pages
Any other actions that need to be taken
This goes without saying, but here goes: choose quality over quantity. Don't create a bunch of garbage just to have multiple links out to other posts. You can always add more content to your pillar page later. OK, dismounting from my soapbox…
Draft a pillar page for that topic, organizing and linking to all relevant blog posts
Your pillar page should inform readers on the topic in a high-level manner while linking out to a plethora of resources on the subject created by you and your team. These resources should be broken into logical order and clearly labeled when they are downloads, white papers, yadda yadda yadda. Pillar page wins:
Broad topic that can support several sub-topics
Educational content
User-friendly organization
Links to relevant and helpful content
Because the pillar page contains such breadth and depth on the topic, it will be rewarded with greater authority on SERPs.
Don't go bananas with your CTAs
Directing readers to subscribe to your blog, reach out for a consult and download an e-book is too much for a blog post.
Drive blog visitors back to the pillar page where they can choose their own adventure
Use the pillar page to promote offers for every stage of the buyer's journey
Drive blog posts back to the pillar page, and maybe one relevant content offer at the end of the post
Back-end BS to remember
Link all your blog posts back to the topic cluster (pillar) page, all using the exact same anchor text
Follow example from Alaniz Marketing's lead gen guide: This post is part of the "Ultimate Guide to Lead Generation" blog series
Ensure your blog posts link to other sub-topics of the pillar page to increase your sphere of influence
Utilize best practices on your individual blog posts for on-page SEO, and inbound and outbound links
Transitioning to the topic cluster model may seem overwhelming. But take your time, map out your relevant sub-topics and think through your pillar page before hitting publish. It doesn't have to be perfection, you can (and should) continuously update your pillar page and the content you add to it. And with the right analytics on the back end — whether from Google or your automation software, you can see what's working and what isn't, then optimize, optimize, optimize.
For more tips on getting started, download the HubSpot Research report on topic clusters.